Revamping Systems to Improve Government Services: Insights from Our Roundtable Discussion at the Toronto IT & Innovation Roadshow
The 2023 IT & Innovation Roadshow in Toronto brought together thought leaders across the Public Sector to discuss and share best practices for harnessing the innovative power of technology to optimize service delivery and citizen outcomes.
Infosys Public Services had the pleasure of delivering a keynote on our shared responsibility toward ESG goals and moderating a roundtable discussion on "Revamping Systems to Improve Government Services." Participants from multiple public sector ministries in Ontario attended our roundtable to discuss the challenges to and potential solutions for modernizing legacy systems. We came away with several interesting insights from the session which are summarized in this blog.
Choosing the Right Modernization Approach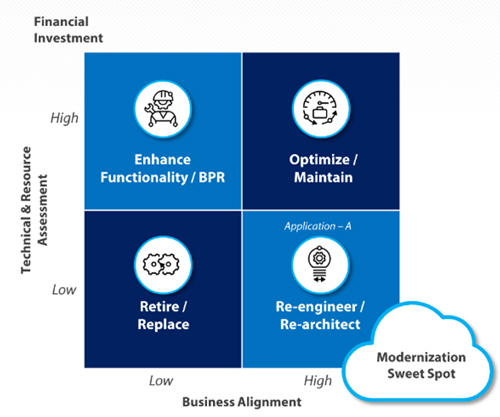 One of the key highlights of the discussion was the Application Maturity Matrix which assesses Business and IT alignment and is used to identify the appropriate approach to enable transformation. This matrix helped participants to take a data-driven approach to understand the current state of their systems and how they can be improved to meet evolving business priorities.
Addressing Legacy Modernization Challenges
Participants also shared their day-to-day challenges as they navigated their modernization initiatives. This included internal structural issues with infra and support team alignment on transformation programs, transitioning to L1 and L2 support, and engagements not delivering meaningful results even after multiple years of effort. The CXO representatives shared their thoughts on the importance of business engagement and buy-in and the need to expand the scope of digital transformation beyond technology. Changing business policies and processes are often part-and-parcel of any digital transformation program.
Funding Legacy Modernization Programs
Another important highlight of the discussion was the need to develop compelling business cases to drive funding for programs. Participants discussed how to build a strong business case in a language that the business can understand without the usual technology jargon. The business case must clearly articulate the benefits of the proposed digital transformation program and how it aligns with the organization's strategic goals, both in the short and longer term.
Managing Shadow IT to Support Transformation Initiatives
The participants also discussed shadow IT, where lines of business or functional units develop their own IT solutions outside the purview of the IT organization. Although this may lead to redundancy, technology sprawl and security gaps, IT organizations need to acknowledge the relative value that they deliver for automating business processes that would otherwise be manually intensive. And rather than "shutting down" these shadow IT groups, the better approach would be more improved governance of these groups as an extension to the IT function. This approach can help to identify new opportunities and to innovate quickly, but it also requires strong collaboration and communication between the IT and business teams.
Agile-Based Delivery for a Provincial Transportation Ministry
Lastly, participants requested us to share success stories within the ministry for a larger public sector client in Ontario where Infosys has been a partner for more than 9 years. We discussed drawing a strategy and overall transformation roadmap upfront, being open to adopting new technology and operating models, integrating an agile-based delivery approach, and how to navigate the cultural shift from traditional methodologies to agile-based approaches for new projects.
In summary, the roundtable discussion on Revamping Systems to Improve Government Services offered an open forum for a lively, interactive discussion among public sector leaders and practitioners to share their perspectives, challenges and real-world experiences. Legacy systems have been a significant roadblock for public sector organizations seeking to innovate and leverage emerging technologies to deliver services at speed and scale. However, there are proven solutions and approaches that can help organizations move forward. The recent shift towards re-engineering legacy systems as a preferred modernization method is gaining momentum, and organizations should be open to the change and cultural shifts that enable this transformation.
Author Details
Dheeraj Eashwar Bangera, Principal Consultant and Scrum Master, Infosys Public Services

Dheeraj is an experienced technology and business consultant with over 16 years' experience. He has worked with Global Fortune 500 companies and government entities, delivering high-impact results in the face of rapidly evolving technology landscapes.
Alex Yang

Alex Yang is a Principal Consultant and Head of Modernization Practice with Infosys Public Services.
Related Reading: