Navigating to a Modular Medicaid Enterprise System
The Medicaid program is witnessing unprecedented changes like expansion, cost waivers, payment and delivery system reform, opioid abuse, modularity, agile procurement and rapidly evolving technologies.
Modular and integrated Medicaid Enterprise System (MES) offers an opportunity to address all these changes, and at the same time enhance program efficiency, control costs and improve outcomes.
But what does a modular MES system look like and how can it be implemented?
A Modular MES
As the name suggests, a modular MES is made of independent and interoperable components or modules. While each agency has the flexibility to choose how to define, procure and implement modules, I believe an ideal modular system includes cloud-based or COTS-based components that:
Can independently support the key business functions or processes
Are interoperable with other internal and external modules and systems
Meet existing requirements and can easily pivot to address future requirements
Comply with the MITA and 7 Conditions and Standards
Can be quickly implemented at lower cost and risk
Are less expensive to maintain and operate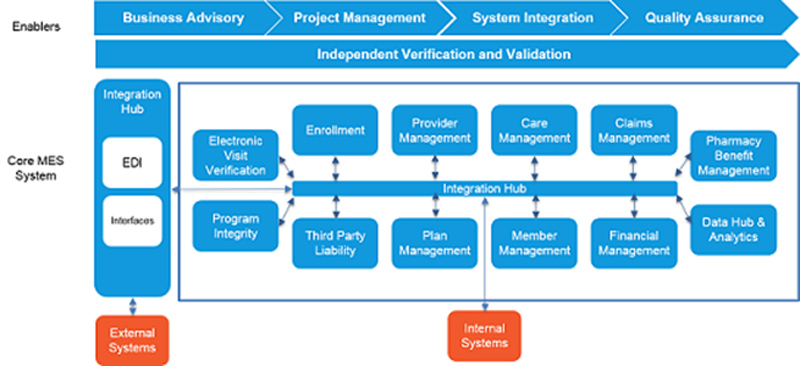 Implementing a Modular, Integrated MES
It's not necessary for agencies to completely replace their existing Medicaid administration systems. They can retain certain systems, enhance a few functions/capabilities and/or implement new modules.
The path to a lower risk, faster deployment is to build on what you know. The following approach can help agencies pick the right combination.

The first four phases inform the procurement and implementation of the right modules. Agencies that haven't decided on an implementation approach yet, can consider the following approach to build a modular MES system.

MES can be implemented from the core to the outside. It will start with the hub to connect all the modules and enable agencies to actionize on the data that they integrate. In the next phase, agencies can create efficient external connections to prevent avoidable errors and ensure seamless exchange of information. This would be followed by building out the core competencies like claims, payment etc. and then expanding out to key stakeholders – citizens and providers. The final step would be to optimize the end user experience by building rich, intuitive portals.
Of course, the journey doesn't end here. The system will keep evolving to address the changing policy, business and technology imperatives. This would require agencies to start the cycle again and that's why the modularity becomes important.
Author Details

Rick leads the Government Healthcare practice at Infosys for the US and Canada. He has 20+ years experience in healthcare and public sector.
Related Reading: