Key Characteristics of IT Systems of the Future: Part 1 of Modernizing Legacy IT into IT of the Future
Over the last few months, I have had multiple discussions with many of our public sector clients about legacy modernization. Almost everyone is aware of the different approaches that can be used to build modern systems. However, everyone had different thoughts on when to choose a particular approach and how to execute it.
I thought of summarizing all our views and creating a reference document that agencies can use when they plan their modernization journey.
Given how vast this topic is and how quickly things change, I thought of creating a blog instead of a whitepaper. And to manage this better, I thought of breaking it into different aspects as below:
Part 1

Key characteristics of IT systems of the future
4 'Rs' to transition from legacy IT to IT systems of the future

Part 2

How to determine and execute the right 'R'?
Proven approaches to understand the legacy IT landscape better

Part 3

Key things to consider for each modernization approach/tactic
The right approach to execute the modernization journey

Part 4

Successfully deploying the modernized systems & ensuring adoption
Practical approaches to manage modern systems
Since this is the first blog in the series, let me quickly summarize why modernization has become important and the different approaches that can be used to build modern systems.
Government IT systems of the future should be:
Hybrid – Systems will consist of multiple, loosely coupled components that could either be on premise or on a cloud, and connected by APIs
Modular – The entire landscape will be modular so that any capability could be easily added or upgraded allowing agencies to adapt quickly to changing requirements
Smart – Components/modules would be able to process and analyze different types of structured and unstructured data, generating insights that would enable an agency to deliver personalized and consistent services across channels
Shared – And, agencies will realize the benefits of sharing common components among themselves to optimize operations and cost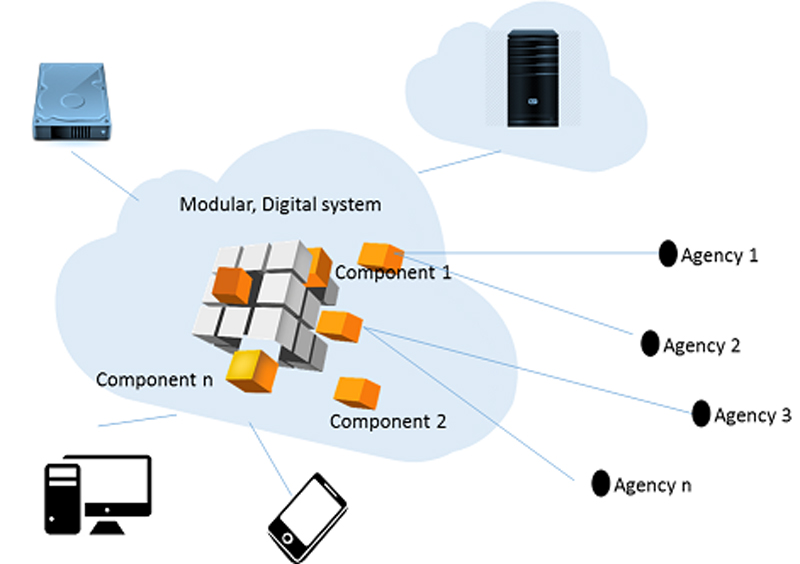 Figure 1: IT Systems of the Future
Modernization is a Multi-level, Multi-step Journey and its Key Characteristics
Building such a landscape is a journey that happens at multiple levels and has many pit-stops.
Modernization @ multiple levels: A typical modernization journey involves modernization of a) software (i.e., code, business logic), b) data, c) hardware and networks, e) business processes, and d) people (organizational change management)
Modernization pit-stops: Modernization happens in phases. An agency may have some assets (applications, processes, data, hardware etc.) that are already modernized, some which are being modernized and some which may still be legacy. These assets may be interacting with each other and used by the same set of people. So, when an agency plans for modernization, it should plan regular pit-stops to take stock of what the ecosystem looks like, ensure all the systems are talking to each other, and course-correct, if needed.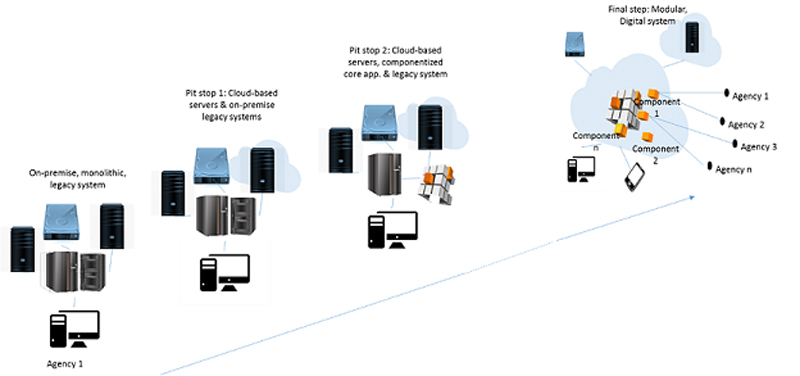 Figure 2: Evolution of Legacy IT Systems to IT Systems of the Future
'Rs' to Make the Transition from Legacy IT to IT Systems of the Future
Agencies can use the tactics below to modernize their legacy IT systems into the IT systems of the future, and eventually retire their old systems:
Re-host – Migration to another platform. Customizations and the functionalities are not changed, only the underlying hardware is modernized
Re-write/Reengineer – Reengineer application to a modern language that can create a path for next-gen architecture
Replace – Switch to a completely new system – generally a Commercial Off the Shelf system
Retain – No modification imposed on the functionality or existing platform. To enhance the application functionalities, features such as APIs and micro services are enabled on top of existing landscape.
Read part 2 to understand modernization of legacy systems.
You can also contact us to learn more about our comprehensive suite of legacy modernization services and solutions that is helping public sector organizations successfully navigate their modernization programs.
Author Details

Sandesh has been managing large Federal and State Clients. He has managed to work and lead the client on large engagements around 1) Legacy Modernization 2) Cloud Enablement and Migration 3) Blockchain 4) Salesforce based Contact tracing and Vaccination passport 5) Robotic process automation to enable process refinement 6)Organization based Agile enablement and adoption He has been instrumental in growing business relationships with current clients and assist in bringing new clients on board.