Digitizing Training and Development for Public Sector Employees
All jurisdictions, including the DMV, face serious challenges with their workforce training and development.
In a State & Local Government Workforce survey by the Center for State Government & Excellence, over 60% of jurisdictions mentioned that they face workforce retention, development and engagement challenges. And, 80% mentioned that they lose experience, institutional knowledge and leadership when older workers leave. This seriously impacts execution of core mission programs.

While there are many reasons for workforce management challenges, one important factor is the inadequate (and probably ineffective) learning and development opportunities for employees.
Daniel Newman, in an article in Forbes, wrote that "By 2020, most companies will have four or five generations working side by side — generations that think differently, communicate differently, and value very different things. Each generation brings its own unique strengths to the table and it's important for leadership to capitalize on these strengths — not bury them."
This shift in employee mix is driving a change in learning needs and trends. A survey by LinkedIn found that employees prefer to learn at their own pace and through the channel of their choice.

Clearly, jurisdictions have to rethink their learning plans to address this multi-generational blend of employees and the challenges that I outlined above.
One way to do it is by digitizing the conventional learning approach or model, i.e. shift from a traditional learning, which is predominantly classroom-based and instructor-driven, with static content to digital learning that's more experiential, learner-focused and personalized.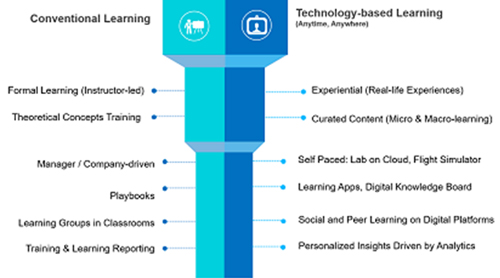 Enabling a Digital-Learning Approach with a Digital Learning Platform
As a result of more dependable networks, greater security and the acceptability of IoT for mobile learning, states and DMV's should move away from traditional training, both business and technical, as a stand-alone classroom-only activity. They should use more comprehensive planning efforts that include digital options, distance learning and resources, as an all-encompassing approach for achieving agency-wide learning and training goals.
For this approach, DMV's must carefully analyze all business applications and supporting technology across the entire enterprise before making investments in infrastructure, digital learning resources or professional development.
DMV leadership must be 'all in' (committed) on the advantages of digital training and understand the positive influence it has to enable staff with relevant knowledge to perform the many DMV services.
The new training must be measurable. In order to gauge the success of the material's absorption by the trainee, identify learning gaps and determine the effectiveness of the presentation format (video scenarios vs. static written content), managers must have reports and metrics that track these critical components. The tracking must include the progress employees are making in the particular line of training. Personnel effectiveness in the job can also be tracked, by closely monitoring staff and supervisors to identify and address any known deficiencies. This can be managed through updates to the training modules to close any identified learning gaps.
DMVs have a variety of clerical, examiner/agent, administrative, technical and investigative positions. Some positions are customer facing, others are in the back office, while still others perform enforcement-related activities. Each person performs specific functions within the DMV and in some cases, perform crossover functions between business units. A digital learning approach, delivered through a digital platform, will allow jurisdictions to create personalized learning modules for each of the roles, and allow the staff to access these anytime and through any device. The diagram below shows the key components and characteristics of a digital learning platform.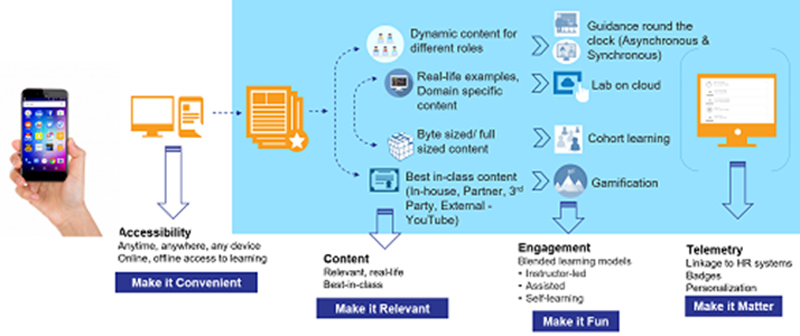 comprehensive training requires a collaborative approach that includes the DMV business and technical staff, the jurisdiction's central training administrators, central IT and senior leadership. Planning begins with developing a shared vision on how digital learning tools and resources support the larger learning objectives, followed by development of relevant digital learning assets and modules.
Input is necessary from a variety of internal and external stakeholders to encourage buy-in. DMV's should use available data, including customer satisfaction surveys feedback and internal feedback surveys, to support learning plan goals and objectives. Other important areas to consider in the training planning process include operational and IT considerations, such as interoperability, data privacy, infrastructure needs, budget, software/hardware procurement and maintenance and delivery mechanisms, including devices and connectivity.
Professional development objectives must include dynamic learning paths, facilities to play and learn through training and certification processes for career advancement.
Some additional guiding principles of navigating this learning transformation include:
Gaining support from leadership, which is crucial for meaningful digital learning integration and acceptance
Focusing on the equity of educational opportunity for all employees throughout the DMV enterprise
Supporting effective and ongoing professional development as an essential element for success
Providing flexible guiding principles for DMV managers to configure and implement their digital learning platform vision
Including third party authorized vendors and external parties in the planning
Identifying and sharing existing innovations, expertise and resources throughout the jurisdiction's ecosystem, while continuing to expand, improve and modify the digital learning program
Planning for long term sustainability and continuous improvement through feedback
Related Reading
Author Details
Experienced Digital Transformation Executive with a track record of connecting Strategy, Business and Technology to drive enterprise value. Managing an active Portfolio and a Vertical Service Business. Skilled in Product and Services Marketing, Design Thinking, Consultative Selling with focus on Customer Experience Applications, Data Science, and Cloud Computing technologies.