AI & DMVs: An Approach to Improve Customer Interactions and Minimize Fraud/Illegal Activity
Artificial Intelligence (AI) technologies have various applications in the DMV space. In this blog, I'll describe two of these – use of AI to improve customer engagement and to minimize fraud and illegal activity. I'll also discuss how motor vehicle and driver licensing agencies can navigate their AI adoption.
But before diving into these two use cases, allow me to outline my understanding of how an AI system works.
The system first discovers and ingests data from multiple sources, including:
Driver and vehicle data
Sensors
Internal systems
Partner systems
Real-time updates from any other system
Then, the machine learning models learns to identify various patterns from this data, such as:
Risk factors based on a driver's driving data or vehicle condition
Customers' preferred devices
Activities that might constitute fraud
The system then stores that knowledge in its database. When any transaction or event happens, (e.g., receiving a new application or an increase in traffic at a particular location) the system senses it and uses its modelling and knowledge repository to decide how to act.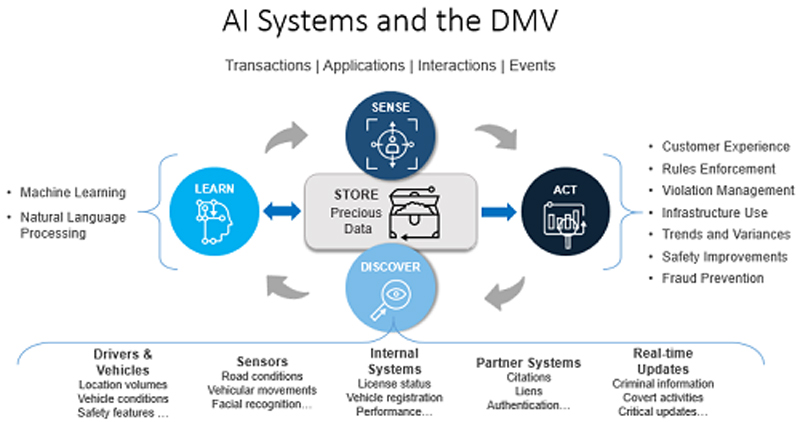 With this groundwork, let me dive into the two use cases that I mentioned above.
Using AI to improve customer interactions
Despite all the efforts that agencies have taken to address known customer pain points, we still see customers not looking forward to a DMV visit. They have to stand in long lines, fill out forms and get the forms validated by an agent, which requires the agent to log into the system, search for or create a customer, enter all sorts of data and process the payment. The entire process is long, tedious and prone to errors.

An AI system removes all of the manual steps, relying instead on various inputs and its knowledge base to assist the customer with the steps needed. Image capture and algorithms ensure security and privacy.
A customer would use their mobile device to access the DMV. Using AI, the system would prompt them with a menu that either collects data for new users or presents available options to known customers. The customer could take pictures of their documents and the AI system would capture not only the image but the required data elements. It would prompt the customer to complete anything missing or incomplete. Validations would be handled by the AI system and the user would be notified of the next steps, with reminders and alerts as needed.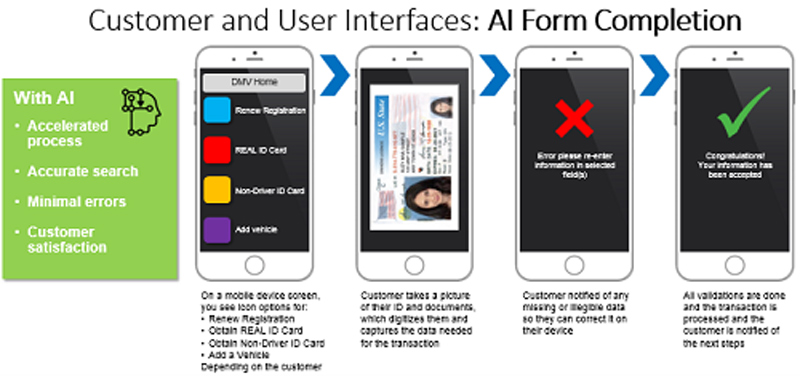 By using an AI-enabled wizard, the DMV can service many customers in a personalized manner 24/7, while optimizing valuable staff time. This will enable the staff to concentrate on the more complex operations and services provided by the DMV. Some of the benefits include:
Significant reduction in wait times for customers in DMV offices
Reduced customer service costs with faster throughput
Real-time feedback on performance and areas of concern that require managerial attention
Continuous learning from feedback on how complex queries are handled to reduce time-to-solve customer queries
Minimized errors and improved customer satisfaction
In addition to this, AI-based chatbot applications can help customers communicate with DMV on-line portals via text or voice or any messenger application. The virtual agent can answer customers' queries and execute various actions on behalf of the DMV agent, including appointment scheduling, registration renewals, wait time verifications and more. Instant response and 24/7 availability offered by an AI solution can enable DMVs to offer more services on-line, reduce the number of trips and wait time at the DMV offices and let their agents be more productive.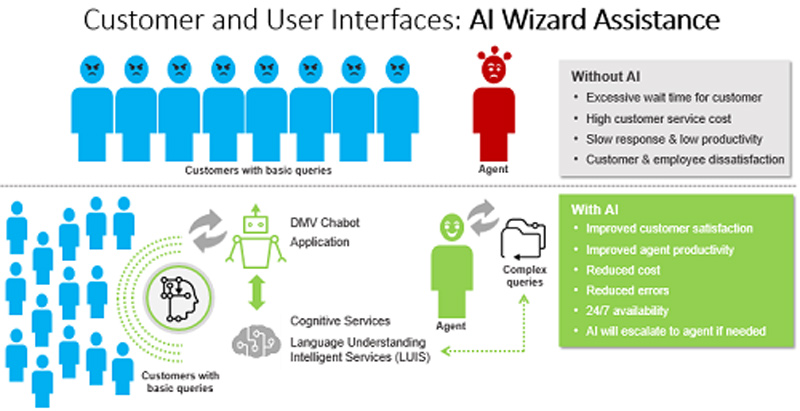 AI to minimize fraud and illegal activity
Internal fraud can take place anywhere, anytime and can last for years. There are very high costs associated with detection and investigations, yet criminal activities are not prevented. Gathering sufficient evidence for prosecution is difficult and the public's confidence in the security of their data can be undermined.
AI can detect and prevent fraudulent and illegal activities by ingesting and transforming alert and transaction data in real-time, using augmented models of behavior based on self-teaching algorithms. This enables the AI system to predict potential fraudulent transactions as soon as relevant activities are detected. The AI systems can stop or flag transactions for investigative purposes and incorporate adaptive self-learning from historical and ongoing transactions, data patterns and investigators' feedback to continuously and automatically update its models in near real-time.
Enabling automation-led decision-making by using neural networks that span boundaries will lead to the creation of best practices and lessons learned without additional work by DMV staff. Some of the key benefits of using AI to combat fraud and illegal activities include:
Improved security
Improved investigative results and prosecutions
Reduced cost
Reduced errors
24/7 availability
Detection and resolution at points of failure
Adherence to legal and regulatory restrictions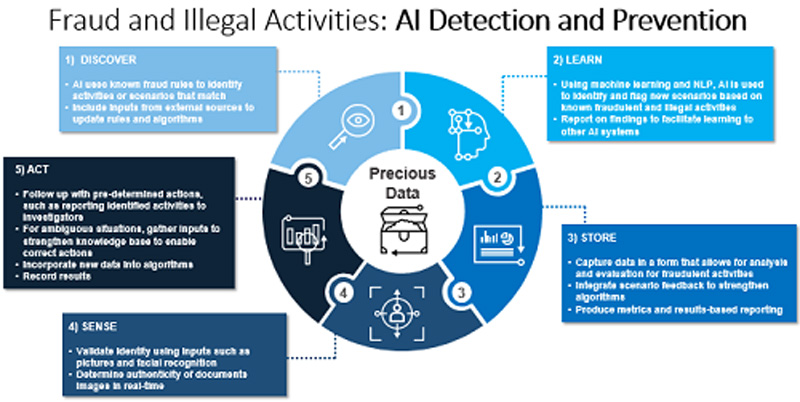 Navigating AI adoption
AI isn't just one model or a system, it is a continuum of different technologies or systems that can be adopted based on an organization's maturity. This is has been brilliantly articulated by my friends with Infosys Consulting in their paper on RPA & the insurance industry I've summarized and contextualized some points from that paper for DMVs.
The beginning of the continuum includes the first level of automation, where most DMVs are now, which is based on specific "if…, then . . ." rules programmed for each step in a particular process. These must be reworked as the rules change, a time-consuming effort that costs money and can introduce errors, including some that can be very public and require immediate, costly remediation.
The next stage represents robotic process automation, i.e. the automation of specifically defined repetitive, rule-based tasks carried out by humans over single or multiple applications, as an important step to achieving a seamless, digitized, end-to-end process. The digitization and automation of incoming paper mail, email and input from other channels is a good example of this stage. Robotic process automation is a crucial enabler in moving up the AI continuum.
Machine learning is another step up the continuum. Instead of manually formulating all of the rules to interpret data, algorithms allow a program to learn and determine the rules. The described development is based on experience gained in similar "if…, then . . ." cases. The more data from the past that is available, the better the learning curve will be. Machine-learning programs still require human intervention at this stage. They can present a variety of choices to consider but are usually not programmed to make decisions. Possible fields of application in the DMV domain include fraud detection or evaluating an application.
The future of AI in the DMV realm will require widespread usage of faster networks, such as those using 5G bandwidth, and real-time integration with the Internet of Things (IoT), which will provide greater data to facilitate machine learning. Hardware and software is being developed to take advantage of the speed and power that comes with AI adoption. This is available now for all to see in the commercial user interfaces being widely adopted.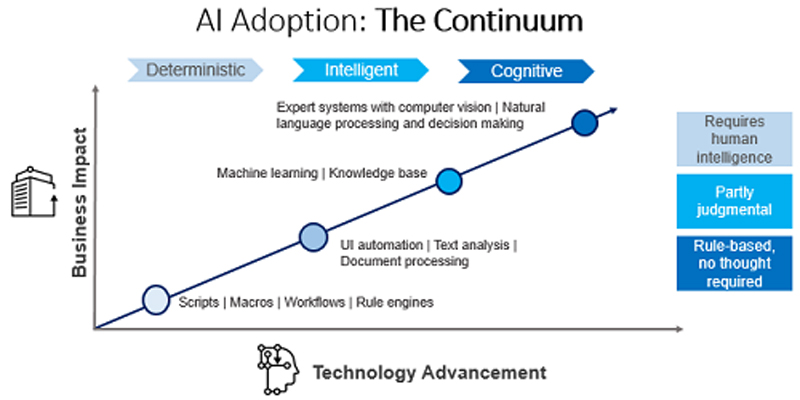 There are some important things to consider when looking to the future and integrating the power of AI into your DMV systems. Education is key to understanding how components of the AI systems can be implemented. This includes establishing where your agency fits into the continuum and the best path to continuously improve the use and usefulness of AI, to allow you to determine which components will provide the most value and remedy your largest pain points.
By including AI in your upcoming procurements, you can ensure that the AI solutions are fully embedded into all of the architecture, systems, hardware and software that will support your modernization efforts.
More importantly, for the DMV domain as a whole, your outcomes and lessons learned will benefit other jurisdictions as AI moves to a full maturity model.
Author Details

Nicholas Demetriades: Nick is a principal consultant with Infosys Public Services' Transportation sector. Nick designs and develops business solutions that help DMVs become more customer-centric and agile. Nick has over 30 years of experience in the DMV domain, where he was the Director of Information Technology at the CT DMV and managed the Agency's technology services. He led numerous DMV business improvement projects for the delivery of business systems and technology solutions. Prior to joining Infosys Public Services, Nick served as the Director of Operations Services at the Connecticut Bureau of Enterprise Systems and Technologies (BEST). He was responsible for administering Enterprise Helpdesk Services, Command Center Operations, Business Continuity Planning (BCP), Disaster Recovery Planning and Coordination.